Ain't She A Beaut?
Did you know we busy bees like to run with a fast crowd and hang out with gorgeous cover models? Well, we do and if you'd like to join us, this exact sexy 'Baby Bird' that was featured on the cover of the August 2017 edition of Classic Thunderbird Club International Magazine will be the main attraction at our very next estate sale. Here's the aforementioned cover photo – isn't she pretty? And she won the People's Choice Award at the Philomath Car Show!
Her specs: Rare fully loaded Inca Gold 1957 T-Bird Thunderbird – Body 40, Color YE, Trim XA, Inca Gold Exterior, Black and White Interior, Port Hole Hard Top, Soft Top, Tonneau Cover, 312 V-8 Engine, Automatic Transmission, Power Steering, Power Brakes, Power Seat, Power Windows, Engine Dress Up Kit, Skirts, Dayton Wire Wheels, Radial Tires, electronic ignition, front disk brakes, retrofitted original radio for Bluetooth & new speakers, engine rebuild with electric fan, rebuilt transmission, and a lot more. Whew!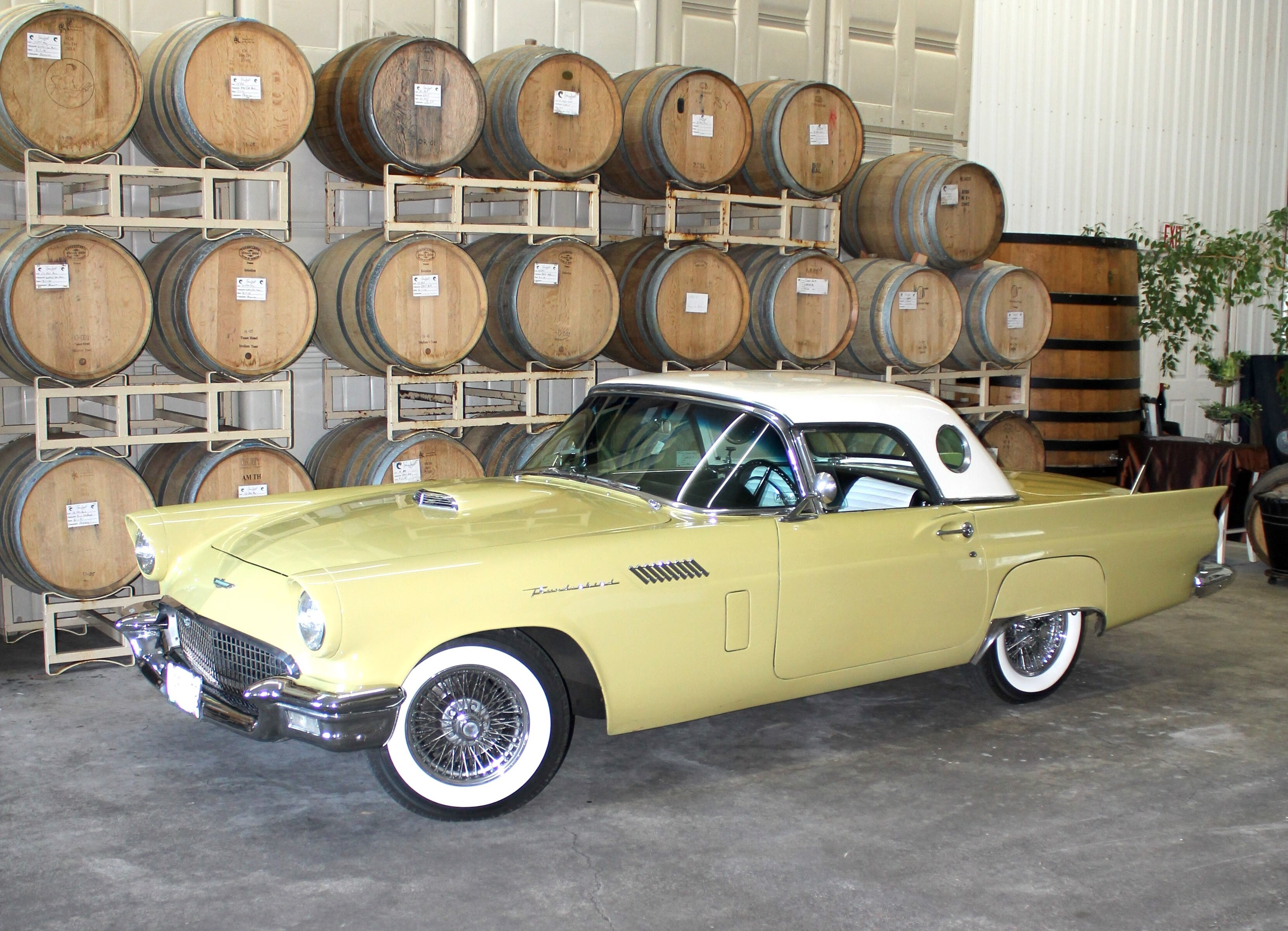 The 2-seat Thunderbird was Ford's answer to Chevrolet's 2-seat sporty Corvette, which created a sensation when it made its debut in 1953. The competing 'Baby Bird' convertible followed close on its heels in 1955 and was produced through 1957. Ford promoted their Thunderbird as a "personal luxury" versus Corvette's "sporty" image and they were offered in either ragtop or hardtop, had V-8 engines and came with either manual or automatic transmissions. But, in 1955 their V-8 engines were available in either 193 horsepower or 198 hp. The following year that was bumped to 202 hp, 215 hp or 225 hp. And, in 1957 it went up again to 245 hp, 270 hp, 285 hp or even the supercharged 312 hp! Since these improvements were based on feedback it seems that "personal luxury" was not the customer's only priority!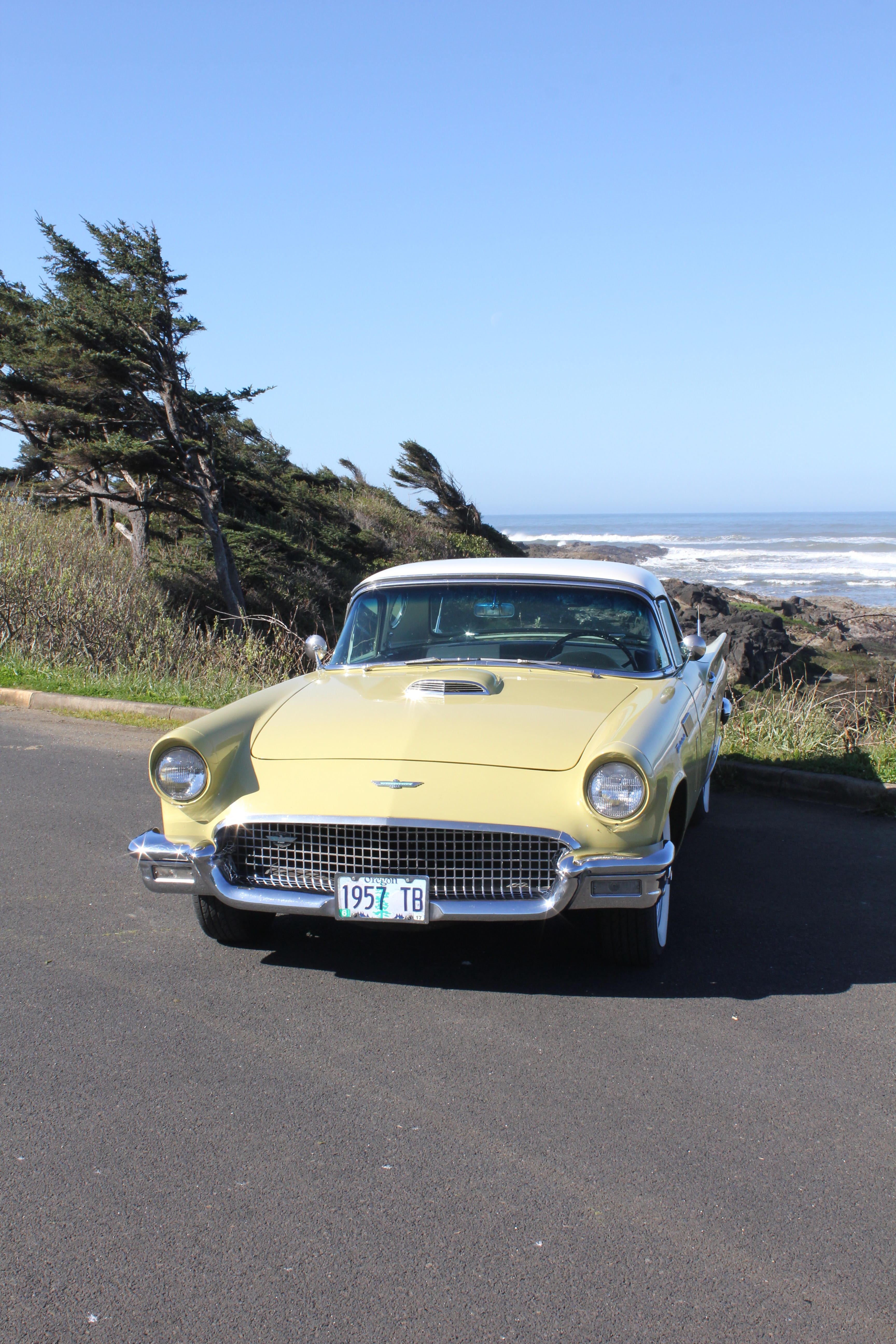 Only 53,166 of the original 2-seat convertible Thunderbirds were ever made: 16,155 in 1955, 15,631 in 1956, and 21,380 in 1957. Over the three-year production run there were 26 body colors: Azure Blue, Buckskin Tan, Colonial White, Coral Sand, Cumberland Green, Dresden Blue, Dusk Rose, Fiesta Red, Flame Red, Goldenglow Yellow, Goldenrod Yellow, Gunmetal Gray, Peacock Blue, Raven Black, Seaspray Green, Snowshoe White, Starmist Blue, Sun Gold, Sunset Coral, Torch Red, Willow Green, and Thunderbird Blue, Bronze, Green or Grey. The wonderfully Mid Century Inca Gold color was only an option in 1957 and seems fitting for a car named after a powerful mythological bird found in the lore of many Native American tribes, including those in the PNW. This one is Haida.
After 1957 the Thunderbird line was reinvented as a coupe, a roadster, and a sedan. The last incarnation of Thunderbird sports car rolled out of the factory in 2005.
If you're the lucky person who takes the Thunderbird home, you might enjoy joining the Rose City Thunderbird Club of Portland, Chapter 51 of the Classic Thunderbird Club International (same organization that puts out the magazine.) Rose City Thunderbird Club is dedicated to preserving the 1955, '56 and '57 Ford Thunderbirds and offers both tech sessions and social events as well as hosting conventions. They also have helpful maintenance and tech tips on their website. Thunderbird replacement parts can be found online through National Parts Depot, Larry's Thunderbird and Mustang Parts, Thunderbird Headquarters, Inc., and Concours Parts & Accessories.
Want more details on the car? We have a spreadsheet! (Click HERE) Want to admire the car in person? We'll see you at the sale!
https://queenborganizing.com/wp-content/uploads/1.thunderbird.cover_-scaled.jpg
2560
1707
QueenB
/wp-content/uploads/nw-queenbee-logo4.png
QueenB
2023-05-04 09:00:31
2023-05-03 12:40:23
1957 Ford Thunderbird