Kristin Bertilson
Owner
When I was five I had a very messy best friend who I would go visit after school. While my friend played with one bin of toys, I would take another toy bin and organize it. I would put the same toys together in different piles, and nice and neat they would go back into the bins. Since my friend would pull out these bins and mix them all up every time she played, I never lacked anything to do when we "played" together. Read More
Queen B Organizing
Susie
Professional Lead Organizer
With more than five years of on-the-job training, Susie has the skills to tackle any space in your home. Her favorites are whole home organization, closets, garages, kids spaces and craft rooms. She will work with you to create an organizational method that works for you! Plus, her experience with packing and unpacking can make your move a breeze! Contact us at getorganized@queenborganizing.com and ask to work with Susie!
Queen B Organizing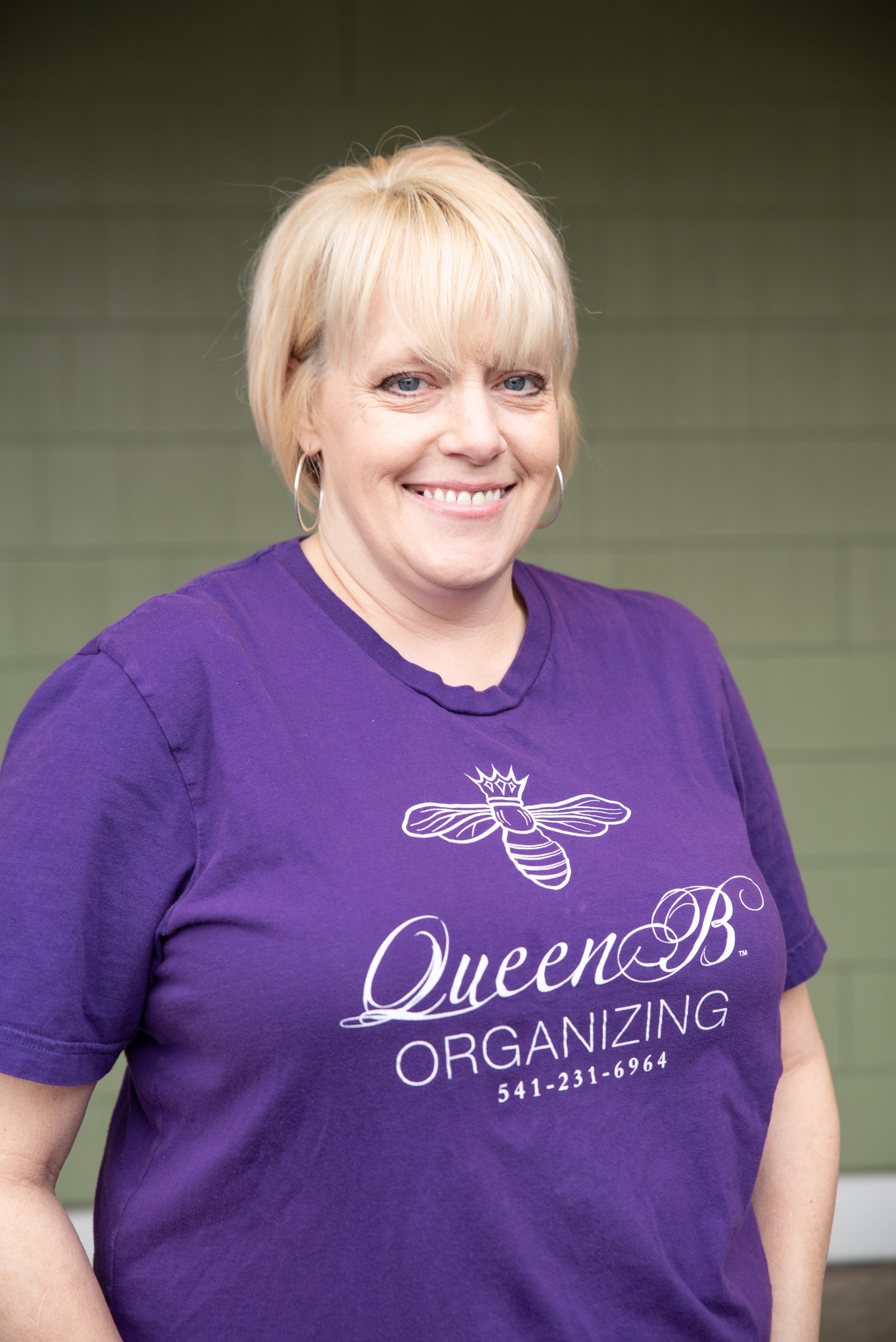 Christy
Professional Lead Organizer and Estate Sale Lead
Christy joined the team over four years ago and has trained in various roles. She started out as an Organizing Assistant and has become invaluable with her love of clients and spaces. Christy now works hand-in-hand with organizing clients to achieve their goals. She offers equally strong support to the estate sale side of the business, loving the variety this gives her! Her versatility, friendly demeanor, and helpful personality are an irreplaceable asset to the Queen B family.
Queen B Organizing
Jesse
Decorator/Designer
Jesse has an eye for space, designs, and fashion. He loves to help people figure out what they need in their spaces, how to accomplish that, and help them see it through to the end. He is from California and brings with him a wealth of knowledge in different companies, styles, and what can be done. His personality combined with his love of people makes him a great fit!
Queen B Organizing
Teresa And Christy
Estate Sale Leads
Your entire estate sale team works together to prepare your sale and offer an exceptional experience for you. Their goal is to make your sale as stress-free and efficient as possible. With over ten years of combined experience, the estate sale leads offer expertise, information, guidance, and compassion throughout the process. Each sale will have one of these capable individuals helping guide you through this process, and be there to answer every question you may have.
Queen B Organizing
Danielle
Marketing Coordinator
Marketing and outreach ensures that Queen B Organizing has a powerful and positive connection with the community.
Danielle is amazing at what she does and we hope our community will get to know her as a great member of our team!
Queen B Organizing
Megan
Office Manager
Our office manager handles much of the behind-the-scenes work that needs to get done, so everything runs smoothly.
Megan was born and raised in Southern California, but has recently moved to Oregon and absolutley loves it. She comes with years of experience in an administrative roll and would be happy to take your call!
Queen B Organizing