Susie
Professional Lead Organizer
With more than seven years of on-the-job experience, Susie has the skills to tackle any space in your home. Her favorites are whole home organization, closets, garages, kids spaces and craft rooms. She will work with you to create an organizational method that works for you! Plus, her experience with packing and unpacking can make your move a breeze! Contact us at getorganized@queenborganizing.com and ask to work with Susie!
Queen B Organizing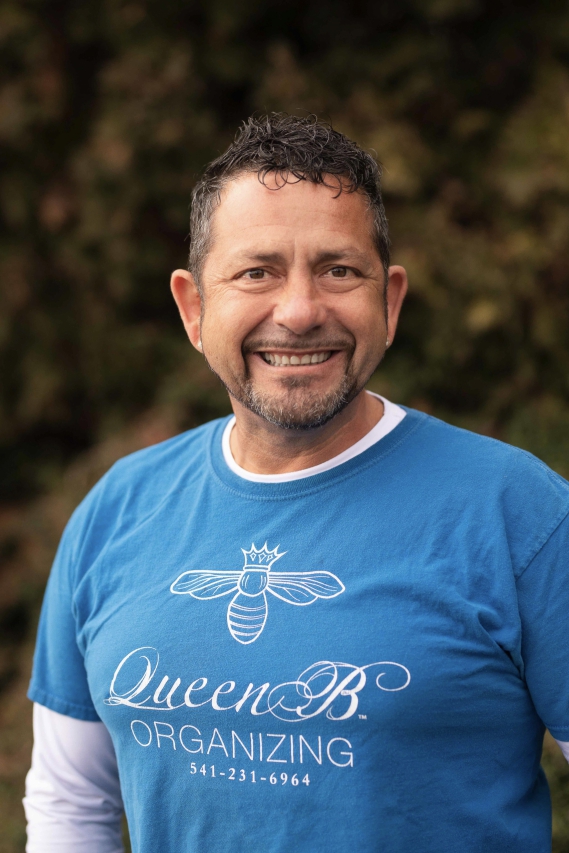 Jesse L.
Lead Organizer/Decorator/Designer
Jesse has an eye for space, designs, and fashion. He loves to help people figure out what they need in their spaces, how to accomplish that, and help them see it through to the end. He is from Los Angeles, California. As a former instructor at the Fashion Institute of Design and Merchandising in Los Angeles and various other companies, he brings with him a wealth of knowledge about styles and what can be done to maximize space in a home. His personality combined with his love of people makes him a great fit!
Queen B Organizing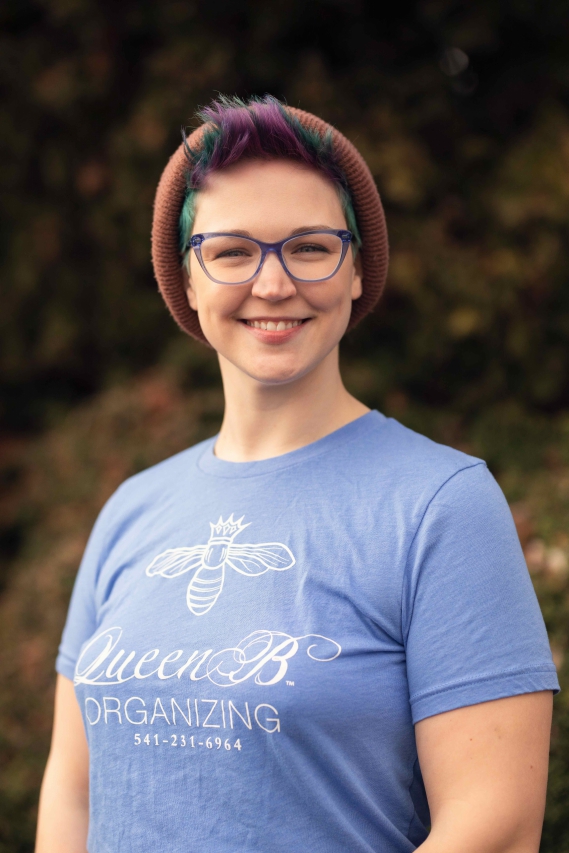 Jesse G.
Organizer and Estate Sale Member
This will be Jesse's third year on the Queen B team. She enjoys serving clients experiencing life in its many forms of transition as an Organizer. As well as providing organizing support to those with ADHD and ASD, as she also navigates life as someone who is Neurodivergent. Her background in childcare makes her a great fit for organizing with kids. She's recently become certified as an End of Life Specialist, and hopes to begin assisting more clients with the necessary planning that comes with life's final transition in a loving and kind manner. She loves to go rock-hounding in her free time, and can often be found singing or dancing on the job-site.
Queen B Organizing
Hannah
Portland - Organizer
Hannah has several years of experience with housekeeping and organizing. She has experience organizing storage spaces, art studios, bedrooms, kitchens, and offices. As someone who enjoys rearranging and redesigning her own space often, she has a good eye for design and functionality. With her background in psychology, she has worked with children and families for several years. Hannah is patient, compassionate, and flexible.
Queen B Organizing
Char
Office Manager
Char has years of experience helping others. She brings empathy and support for all of our clients. With a background as an office manager and human resources at both non profits and large enterprises she bring a wealth of experience to help keep Queen B Organizing running smooth!
Queen B Organizing
Moriah
Office Assistant
Our office assistant handles much of the behind-the-scenes work that needs to get done, so everything runs smoothly. Moriah is a great communicator. She represents the company at networking meetings. We are so fortunate to have her as a part of our dedicated office team.
Queen B Organizing
Neel
Owner / President
Neel's career has been in technology and entrepreneurship. His passion is to help people during difficult times in their lives. Having gone through a similar transition when his father passed away, Neel is motivated to make others life transitions less stressful. Outside of work Neel enjoys spending time with his wife, Holli and three kids. When he has time Neel also enjoys a good Mountain Bike ride in the forest and skiing in Central Oregon. Neel also runs a non-profit, Silicon Box, dedicated to bringing STEM activities to underserved groups.
Queen B Organizing