Dates/Times:
Friday, May 29th  8am-3pm
Saturday, May 20th 9am-3pm
** Saturday is discount day! Everything $45 and under is half off and other items are discounted!
** Please note the sale is one hour longer each day
Location:
6288 SW Chestnut Drive
Corvallis OR 97330
From Hwy 20 headed west towards Philomath turn right onto 53rd St, at the roundabout take the third exit to head west on West Hills Rd, after passing the park turn right onto Grand Oaks Dr, take the fifth right onto Chestnut Dr. The sale will be up ahead on the right.
Parking:
This is a residential area, please be considerate of the neighbor's driveways and mailboxes as you park alongside the road.
Description included below, please review our note about signing up for the sale.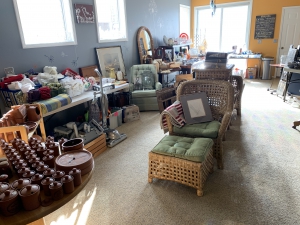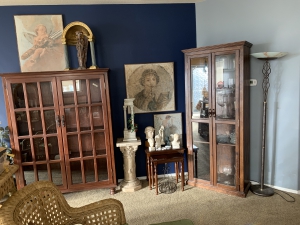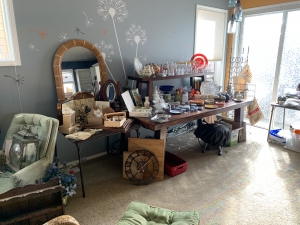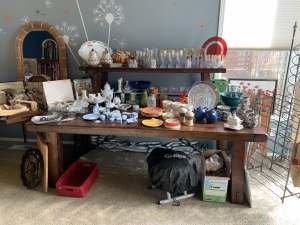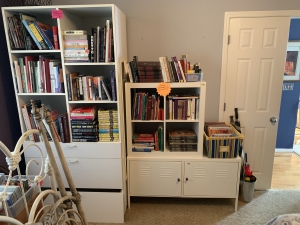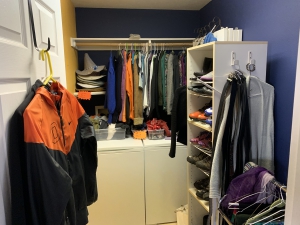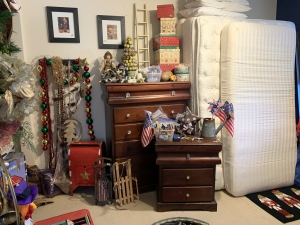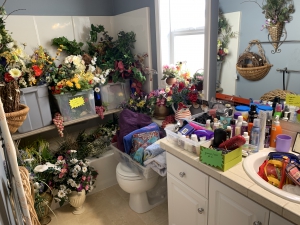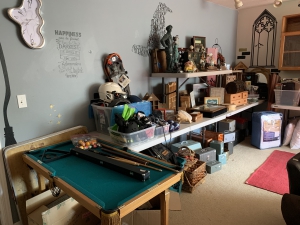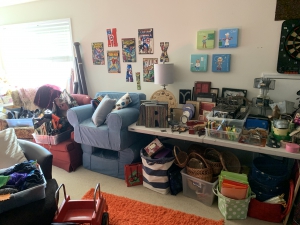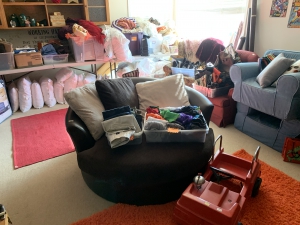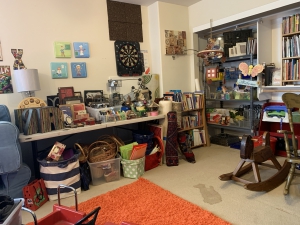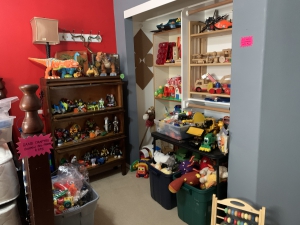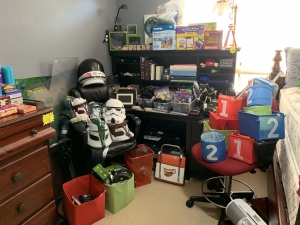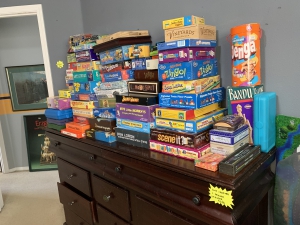 The Goods:
Master Bedroom
Entering the home, turn right into the master bedroom where you'll find a King size bed and headboard made from cabinet doors, two desks one of which is a small two tiered desk and the other a five drawer desk, unopened boxes of dolls, two metal bed frames for full size beds, plenty of office supplies, empty notebooks, pencils, desk lamps, desk organizers, folders. There is a tall bookshelf with three pull out drawers, a square four shelf bookshelf and a metal cabinet, all of which are full of books, mostly fiction with a few history books. There are three umbrellas in a metal wastebasket beside these bookshelves. Beside the door is a small secretary desk with a selection of belts, a scarf, coasters, a handbag, nutcrackers, perfume bottles, and signs.
Living Room
In the center of the room is a matching set of wicker patio furniture loaded with an American flag quilt and art prints. On the left is a large collection of handmade Sheffield Original Sulffolk terracotta canisters, on top of a small round light wood dining table with two chairs. The mantle holds many decor items including a small carriage, hourglass, clock, metal wine bottle with corks, figurines and vases. Nearby is an ample collection of napkins and table runners. Below the table are Dyson attachments and vacuum cleaner. There is a green recliner chair, metal and glass lantern, wicker framed mirror, art, shadow boxes, cutting boards, decorative trays, serving platters. There are many pieces of pear themed serving dishes and centerpieces, some Aynsley china,  glass ware, Waechtersbach plates, flower pots, Rae Dunn dishes,  tea sets, cute graphic totes, a small weber grill, and a metal wine rack. Underneath the table is a JVC stereo and speakers. The opposite wall showcases a wrought iron standing lamp, a curio cabinet, small roman styled busts and pillars, a set of nesting tables, wheeled captains chairs, and another small curio cabinet.
Kitchen
As you make your way towards the kitchen from the living room you will find an incredible selection of Polish pottery, both individual pieces and full sets. In the main kitchen area there are many decorative and collectible plates as well as mugs with a variety of designs and phrases. There are more Rae Dunn dishes here. The stove holds a mix of nonstick and stainless steel pots and pans. There is a red set of Waechtersbach dishes and bowls, and a matched green set of Villeroy & Boch plates. There is a Cuisinart Ice Cream Maker, Kitchen aid stand mixer, Cuisinart coffee maker, Hamiltonbeach espresso machine, toaster oven, and scale. There are additional wine glasses, pilsner glasses, champagne glasses, and mixing bowls.
Patio
On the patio is a selection of plastic bins, four adult and children's bicycles including Specialized and Magna, a cute red country baker's rack, folding chairs, a wheeled mobile utility box, a metal porch swing, a set of rims, an ornamental metal yard art birdhouse, car covers, golf clubs, plastic ware, a selection of Nerf toys, and a plug-in fountain.
Headed up the stairs you will see the walls are covered in many art pieces.
Closet – Upstairs
The first door on the right holds a walk-in closet with coats, belts, hats, gloves, scarves, cleats, and shoes including Keen.
Holiday Room – Upstairs
There is furniture as well as Christmas. A matching set of two bedside tables and a dresser. Against the wall is a full mattress set and a twin mattress. There is an artificial tree, artificial wreaths, ornaments, a nativity, multiple Santa figurines. There are miniature American flags and patriotic decorative items along with many miniature pumpkin and fall decor items.
Kid's Room
You will find a nine drawer dresser that has towers of family board games on top of it, a collection of Star Wars helmets, a student's desk with shelving laden with electronics school supplies, and more Star Wars figurines. The hand crafted queen bedframe and mattress set holds hats, OSU gear, children's dolls, and blocks. There is a barrister bookshelf holding more children's action figures, and the closet is full of wooden toys as well as more plush dolls.
Bathroom – Upstairs
The bathroom is filled with artificial flowers and flower arrangements in addition to glasses cases, beauty products and small handbags.
Play Room – Upstairs
At the end of the hallway is a large play room with a miniature pool table, sporting supplies including softball helmets, snowshoes, small dumbbells, backpacks, knee pads and many more mixed sporting goods. There are many metal carry boxes and wooden decorative boxes and frames as well as a small display of sporting figurines and art boxes. Against the back wall is a large selection of pillows and throw blankets, as well as placemats and bed linens. There are four armchairs, one in red, two in blue and one in a floral sand. These hold totes of women's shoes and women's handbags. There are many decorative letters and picture frames, wicker and metal baskets. There are two bookshelves of children's books, a wooden rocking horse, and wooden rocking chair. The center of the room showcases a large cuddle chair.
Thanks for browsing the ad we can't wait to see you there!
**Photos will be up on Craigslist on Wednesday, please search "QBO".