Finnish Beauties
These two kettles from different sales have different histories but both hail from a place Americans primarily associate with saunas: The Republic of Finland. A Nordic country which was, at times, either a part of Sweden or of Russia, Finland has the distinction of having fought against BOTH sides during World War II, keeping its independence from both the Soviet Union and Nazi Germany. Although a member of the United Nations and the European Union, on the world stage Finland is neutral. And it has repeatedly been ranked absolute highest on the annual World Happiness Report, so you could do worse.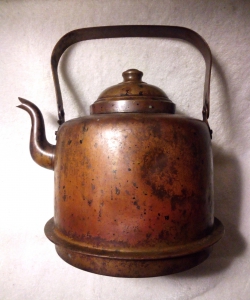 The country is sparsely populated (only 5.6 million people) and 75% of the land is forest. There are more than 180,000 lakes. This copper kettle is from Finland's agrarian past, it was designed for boiling water on wood-burning stoves that heated the farmsteads.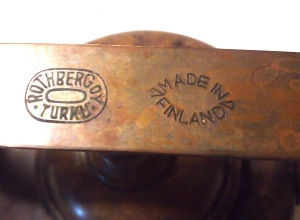 Simply remove one of the inset cast iron plates from your range top and settle the kettle into the round hole. The kettle's low- set flange rests neatly on the circular edge of the opening, suspending the kettle's bottom above the open flame – much more efficient than boiling water through a thick layer of cast iron! Very old kettles are often entirely copper but this one is newer and lined with tin. This is because we now know that copper is toxic and repeated uses of unlined copper vessels can result in a poisoning that causes diarrhea, headaches, even kidney failure! If you do have pure copper cooking pots, be careful how often you use them. Age has tarnished this kettle but it could be shined up nicely with commercial brass and copper polish or a mix of lemon juice and salt.
The smaller enameled turquoise kettle was made by Finel in the 1960s. The pattern is called "Lehvä" (twig).
Multiple entities were involved in this kettle's creation. Founded as a sawmill in Järvenpää in 1834, the Wärtsilä Oyj Abp company converted to an ironworks in 1898. In the 1950s its subsidiary Arabia began making enamel kitchen wares under the trademark Finel. At first they hired foreign designers, but as the Scandinavian design movement took off many fine Finnish designers stepped up. Scandinavian design championed sleek, minimalist functionality and a color palette that might combine bright and dull colors in the same piece. It was the genesis of what we in America now call Midcentury Modern.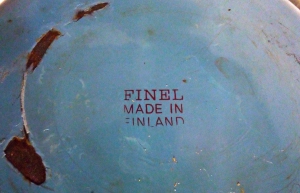 This kettle's shape is by Kaj Gabriel Franck while the decoration is by Harry Molainen. Interior architect and designer Molainen studied at the Aalto University School of Arts and Design in Finland and taught architecture at Washington University in St. Louis in 1968.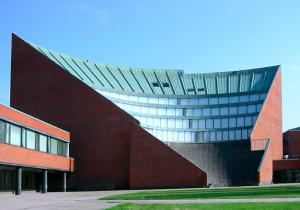 Franck was a Swedish-speaking Finn, one of an ethnic minority that makes up less than 6% of the population. Finnish is rare among European languages in that it is not of Indo- European origin and so is very important to Finland's national identity. Nevertheless, Franck designed for many companies and became artistic director of Arabia ceramics. He was also artistic director for the College of Applied Arts (now Aalto). In 1964 the King of Sweden awarded Franck the Prince Eugen Medal for outstanding artistic achievement, while today Design Forum Finland awards a yearly Kaj Franck Design Prize, so both sides of his heritage are proud to claim him.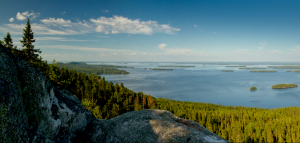 Wärtsilä (including Arabia) is now owned by scissors maker Fiskars while Finel makes bath fittings, but we still have this kettle to remind us of the glory days of Scandinavian Design.
Want your own a glorious kettle? Visit QBO!
/wp-content/uploads/nw-queenbee-logo4.png
0
0
QueenB
/wp-content/uploads/nw-queenbee-logo4.png
QueenB
2022-10-17 10:46:13
2022-10-17 10:46:13