Banking For Babies
It's not very often you find Book Banks at QBO Sales but when you do, they are usually without keys (more on that later.) This brown Book Bank is 5″ tall x 3.5″ wide x 1″ deep, the yellow one is somewhat smaller. When slipped in amongst regular hardback books, a Book Bank can easily escape detection.
Book Banks are sturdy metal boxes with a top coin slot and a front cover/keyed door that swings open. The earliest were plain but most had embossed leather covers like antique books. A few had fancy all-metal covers. In spite of their adult-ish disguise, this genre of piggy bank was made for children; the yellow one with its adorable menagerie is even titled "Baby's Bank", while others were adorned with storks (the bird that brings us babies, get it?) Most, however, are officious-looking, like this brown one made by Bankers Utilities Company of San Francisco for the Monterey County Trust & Savings Bank.
Book Banks were made from 1900 through the 1980s, with the majority produced in the 1920s – 60s. The patent date(s) that many have on them is for the locking mechanism, not the year of manufacture. A clue to their age can be found on some in the form of the FDIC maximum deposit insurance – the amount an insured bank would guarantee.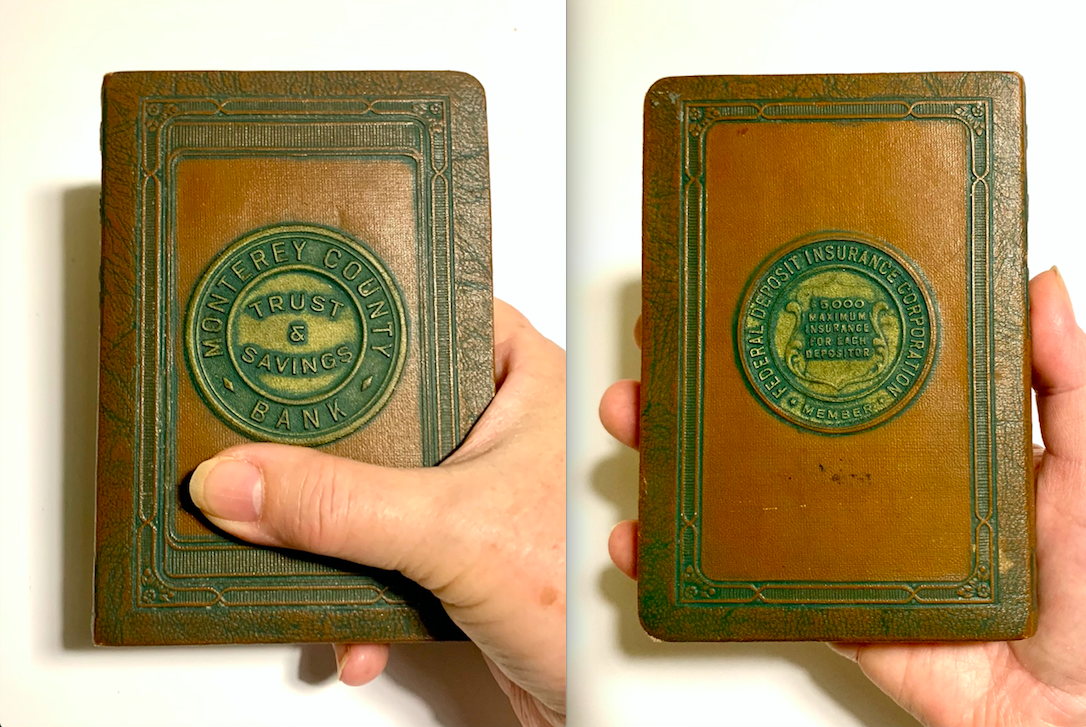 In 1934 the first FDIC was set at $2,500 and then raised to $5,000. In 1950 the rate was $10,000. In 1966 it was $15,000. In 1969 it went to $20,000, in 1974 $40,000, and in 1980 $100,000. So, this brown bank dates to 1934 – 1950. As you'd guess, many of these mini banks were given out by institutions that dealt in money– banks, savings and loans, and insurance companies. Others were giveaways from companies like Singer Sewing Machines or sold as souvenirs of events like the 1939 San Francisco World's Fair.
The Book Banks associated with financial institutions were designed to teach kids fiscal responsibility. One was titled "Book Of Thrift". Another, "Time Flies, Prepare for Tomorrow". Some had a built-in mechanical calendar that required inserting a coin to advance the days, urging, "Save A Coin Each Day, Keep the Calendar Up to Date." This brown Book Bank's spine reads "Save and Have; Benjamin Franklin" an advertising campaigned used by 19th and 20th century banks based on Benjamin Franklin's advice in Poor Richard's Almanack, which he published yearly from 1732 – 1758. The full saying is "A penny saved is two pence clear. A pin a-day is a groat a-year. Save and have."
When a parent brought their child to the bank, the kid would be given a Book Bank BUT NO KEY. They then had fun saving their pennies and once their bank was full, the only way to open it was to return to the issuing institution where the child would then be heartily encouraged to open a real savings account. The practice of not issuing keys means that some Book Banks still have coins stuck inside… who knows, there could even be a 1916 Mercury head dime in there.
Collectors have been able to pick the lock with a binder clip. Or you can buy extra keys online, although there are so many different versions it's hit or miss. Or, a locksmith might crack this tiny safe. Or how about the issuing financial institution? In the case of this brown bank, that means a road trip to California. The Monterey County Trust & Savings Bank no longer exists, but their Mission and Spanish Revival building does. It became the Carmel Museum of Art, then the China Art Center and is now prime retail space in the Downtown Historic District. Maybe there's a spare key in the basement? Or, maybe find one at the next QBO Sale? See you soon!
https://queenborganizing.com/wp-content/uploads/1.babys_.bank_.png
634
1019
QueenB
/wp-content/uploads/nw-queenbee-logo4.png
QueenB
2023-07-25 09:00:59
2023-07-20 13:09:18
Banking For Babies