Groovy OOAK Vintage Clothes
One of the best things about hunting through the closets and bins at Queen B sales are the cool old vintage clothes to be had, but within that category is an even more rarified subcategory – the unique, one of a kind creation. Here we have seven such garments, all from the estate of one groovy, stylish woman who was an avid sewer.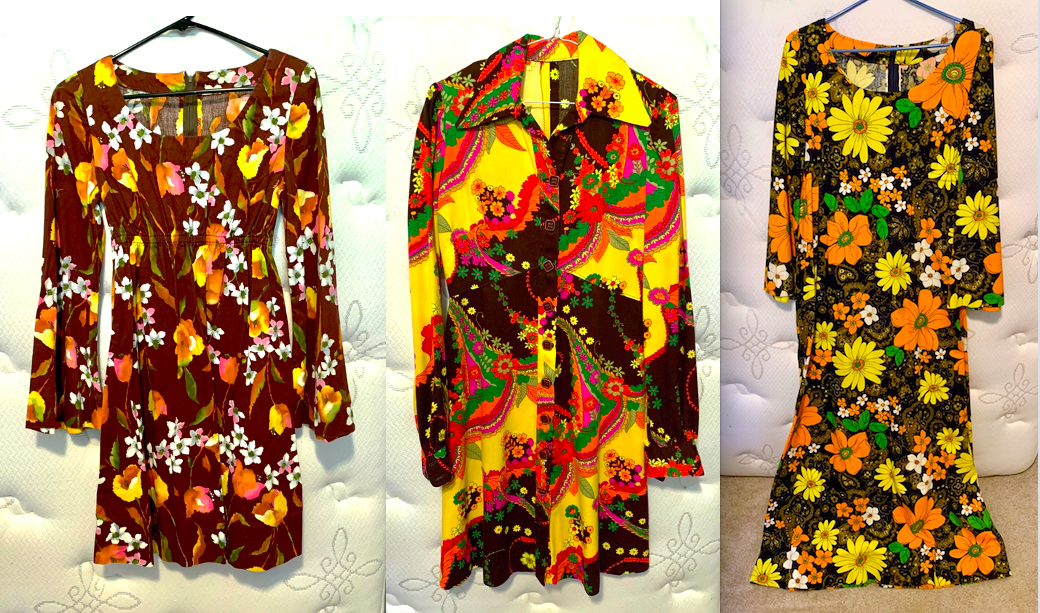 The home sewer selects the garment pattern, fabric, lining, fasteners (buttons, snaps, hooks or zippers), thread colors and styling options to suit their distinct personal taste, so the odds of two home sewers producing the exact same garment is vanishingly small. Commercially-made paper garment patterns come in a wide spread of sizes, with each individual pattern having several variants available within it (different hem lengths, sleeve and collar shapes, fastening options, pockets, waist-seam placement, etc.) And because many more people made their own wardrobes in earlier decades, a wider array of garment fabrics were available to home sewers in the 1950s, 60s, 70s and 80s than now. Thus, the buyer of these dresses and tops is virtually guaranteed that no one else in the world has one exactly like it, each of these amazing pieces is truly One Of A Kind.
Based on cut, hem lengths and collar styles, most of these garments were probably made in the 1970s – 80s. The fabrics look 70s – 80s, although in large cities it is possible to find a wider spread of print fabric "eras" in discount import stores, while large national chains such as JOANN and Michaels keep abreast of the current fashion trends, following what's seen on the runway by about a year.
If you love vintage fashion but are not a sewer yourself, here are some key signs of a home-made garment you can look for when searching out these truly unique creations.
1. Probably no label. Seems like a no-brainer, but the high-end pattern company Vogue did sometimes include a label for home sewers to put in their garments. Vogue recruited designers like Issey Miyake, Christian Dior, Valentino and Bill Blass, so their patterns are more expensive and challenging to make.
2. Interior seam edges finished with serrated pinking shears and/or zig-zag stitches rather than an overlock stitch. Cut edges on woven fabrics fray, making seams come apart over time, so industrial manufacturers finish their seams with an overlock stitch that wraps the cut edge in thread. An overlock serger machine for home sewers was invented in 1965 but they did not become popular until the 1980s, both because of higher cost and because they're less forgiving of errors than standard machines. A serger actually cuts away excess fabric from the seam as it encloses the edge in thread, BUT, if you have sewn those pieces together in error, well… you're now missing part of the fabric, changing the dimensions of the garment when you try to re-sew it. (Dang!) Sergers do better at sewing knits than standard machines, but because they cost more and are harder to master, they're still less common for home sewers.
3. Non-standard detailing. With few exceptions, commercially-made shirts, suits and dresses have vertically oriented button holes, invisibly stitched-in linings and smooth top-stitching. In these garments you can see an irregular top-stitched lining and horizontal button holes. Hand-sewn buttons instead of machine-sewn are also telltale; hand-sewn often have a bumpy little knot on the back of the fabric.
Ready to get out there and find some groovy vintage togs? We'll see you soon!
https://queenborganizing.com/wp-content/uploads/1.three_.groovy.dresses.png
613
1040
QueenB
/wp-content/uploads/nw-queenbee-logo4.png
QueenB
2023-06-20 09:00:06
2023-06-16 10:47:15
Groovy OOAK Vintage Clothes