A Winning Smile
Did you know Americans use over 30 billion toothpicks every year and that they're found in 95% of American homes? Me neither. And yet here, we are admiring toothpick holders found at QBO sales. First your basic, plastic picnic toothpick dispenser. Boring but handy.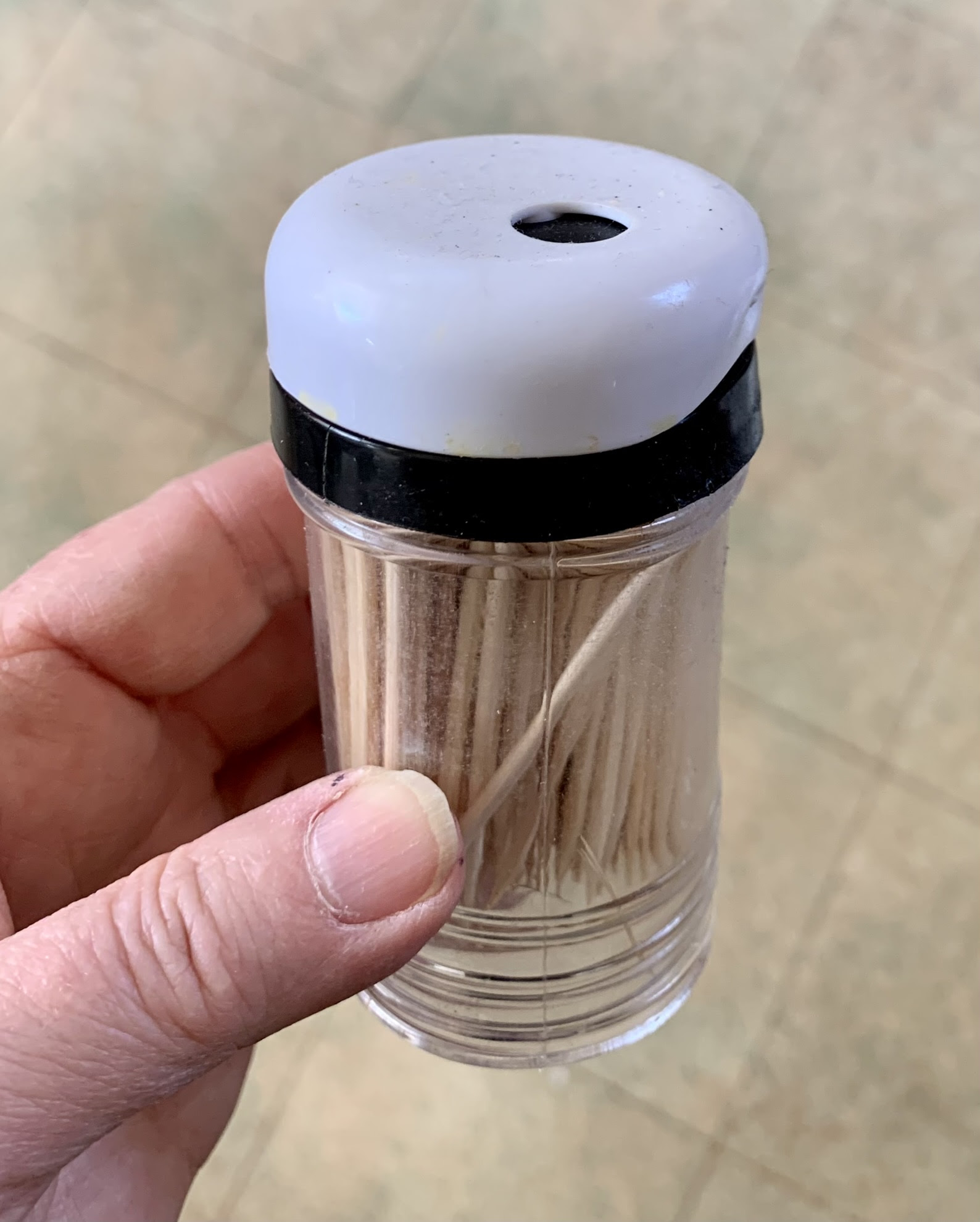 Next, two from the late 1800s – early 1900s, when toothpicks were promoted as a luxury good by an ambitious Mr. Charles Forster, who had admired orange-wood picks carved by the locals when he visited Brazil. The pressed glass toothpick holder (possibly a reproduction) imitates more expensive cut-crystal, while the silverplate eggshell-and-chick offers dinner guests their toothpick as a gift with "best wishes" (note the wishbone!)
When Mr. Forster returned to Boston he invented machines to mass-produce birch toothpicks and hired two Harvard students to dine out at fine restaurants all around town and demand wooden toothpicks at the end of their meal. No-one had ever heard of birch toothpicks but the guerilla marketing worked, creating a demand where none had existed. Prior to that, most people used quills (the 'stem' part of a feather), while those in the elite carried their own permanent toothpicks made of ivory, silver or gold.
Restaurants everywhere started offering their patrons birch toothpicks. By the time this gaping baby bird toothpick holder was made (between the 1920s – 50s) there were 12 toothpick factories in the U.S. The bird is marked "made in Japan", which helps date it. Japanese moriage, a technique of decorating porcelain with 3-dimentional slip glazes as seen on this little bird's feathers, was produced from the end of the 1800s through mid-20th century, but prior to 1921 all Japanese ceramic export goods were labeled "Made in Nippon" not "Made in Japan".
There are multiple castings of this baby bird decorated with different techniques; crudely glazed in plain colors, in pearlescent pastel lusterware or in moriage trimmed in gold.
This goofy, toothy hippo is handmade stoneware, unsigned so accurately dating her is impossible, but the 1970s is a good guess. There was a minor rebellion against the prevailing bright, slick, 'atomic' Mid-Century Modern aesthetic which then produced a counter-demand for heavy, rustic handmade stonewares glazed in subdued 'natural' colors. But, the movement was not Puritan, lots of humorous 'hippy' pottery got made, and it happily sometimes shows up at QBO.
If you look closely, this turquoise critter is riddled with holes for holding toothpicks, making him a porcupine. He was hand carved and hand painted in Mexico, any time from the 1980s onward. The small, nut-like vessel actually IS a nut from the Tagua Palm. In Victorian times it was called corozo or 'vegetable ivory' after its color and hardness which allowed it to be carved into buttons, dice, knife handles and chess pieces. Before plastic, 20% of the buttons in the U.S. were tagua. In the 1980s a high-end clothing designer re-introduced tagua buttons on their pricey natural fiber pieces but ran into trouble when the buttons broke after being soaked in washing machines. Being a seed, nature actually programmed the tagua nut to break open when soaked, so if you buy a tagua toothpick holder, don't soak it!
Today there are only 3 toothpick makers left in the U.S.: Diamond Brands, Strong Wood Products and yes, Forster, still chugging away in Maine near the birch forests. Are you one of the 95% of American households that owns toothpicks? A Harvard student told me you need a fabulous holder from QBO!
https://queenborganizing.com/wp-content/uploads/5.mexican.porcupinetagua.nut_.png
563
1130
QueenB
/wp-content/uploads/nw-queenbee-logo4.png
QueenB
2023-04-20 09:00:43
2023-04-19 13:27:40
Toothpick Holders