Laurel Burch
Laurel Burch's playful, slightly odd, yet beautiful creations get snatched right up by people who come across them at Queen B sales. And why shouldn't the lucky shopper pounce? New Laurel Burch products are currently sold (sometimes at premium prices) in local boutiques; the vivid colors, offbeat critters and distinct Burch style are instantly recognizable across many product lines; a fact made more remarkable by the 50+ years that the Laurel Burch aesthetic has remained consistent. There aren't many design houses from the 70s that can say that! The company currently sells products through local U.S. retailers, online through their own and other vendor websites, and licenses sales overseas.
Laurel Burch's products include cloisonné enamel jewelry, scarves, socks and clothing, stationary, journals and greeting cards, rainwear and umbrellas, and homewares such as towels, tea towels, coasters, pillows and table wares. This charming, oversized cat mug is a fine example.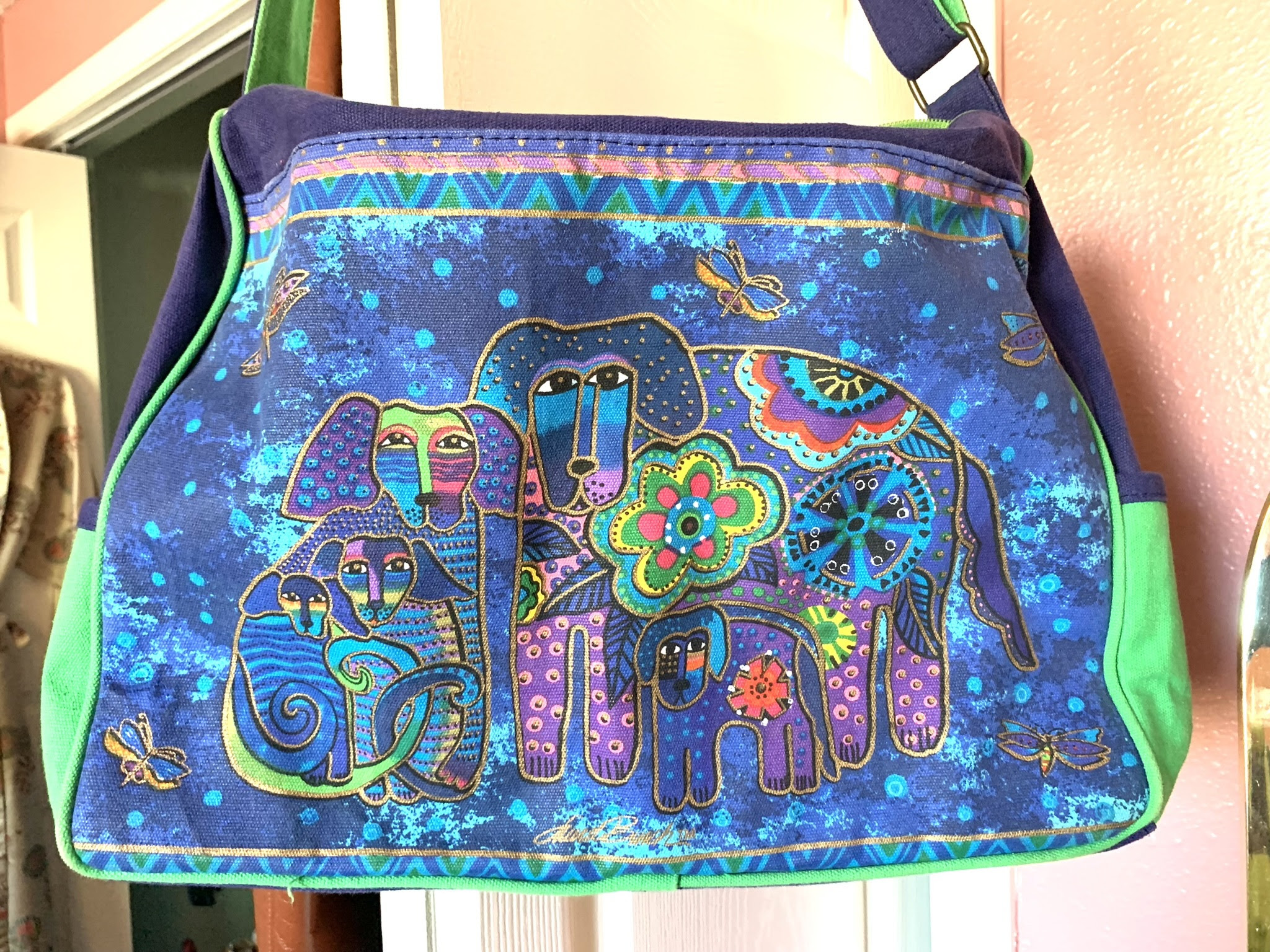 There are also decades worth of wallets, backpacks, purses and bags, including the adorable dog and cat versions here, which were found at two different sale homes.
Today 'Laurel Burch' refers to the company that produces these products, but the company was founded by a real young woman, Laurel Anne Harte. Laurel was born in 1945 into a troubled family and hampered her whole life by a painful genetic bone disease, which she finally died of at the age of 61. When her parents split up (ultimately remarrying other people) Laurel lived first with her mother, then her father, and then her mother again. She tried to escape the conflict by exploring the nearby forests looking for cool bugs and critters, or singing and playing guitar, or drawing and painting.
On her own by 14, she did house-cleaning and childcare for room and board. By 19 she married jazz musician Robert Burch and gave birth to their daughter, Aarin. They moved to San Francisco where Laurel gave birth to their son Jay, but the marriage ended, leaving Laurel a single mom at 23.
In later interviews, she admits she sometimes stole to feed her children, but bit by bit she was able to make a living selling handmade earrings out of tackle boxes on the street. San Francisco, a port city with an international airport, has a population from all over the world and Laurel assimilated that wide array of artistic influences in her own unique way. She moved up to selling in local shops.
In 1971 local businessmen Shashi Singapuri, struck by her designs, offered to fly Laurel to China and introduce her to mass-producing cloisonné enamel jewelry, for which he thought her work was particularly well- suited. He was not wrong! They were business partners for 8 years after which she started Laurel Burch Inc., where she could be both president and chief designer, exercising the maximum creative control a mass- produced artist can have. The company branched out into a great variety of products, all bearing Laurel's distinct aesthetic.
She also struggled to parent her kids while battling her own osteopetrosis, suffering more than 100 bone fractures. In the 1990s Burch licensed designs to foreign companies to make and distribute her work outside the U.S. but her children became estranged from their workaholic mom as they grew to adulthood. Laurel actively worked to reconcile with them before her death in 2007 and today the Laurel Burch Studio is proudly run by her daughter Aarin Burch, who champions her mother's unique vision.
https://queenborganizing.com/wp-content/uploads/2.laurel.burch_.Dog_.purse_.jpeg
1536
2048
QueenB
/wp-content/uploads/nw-queenbee-logo4.png
QueenB
2023-08-15 09:26:48
2023-08-15 09:26:48
Laurel Burch