Collectable and Practical
If you come across an elegant carafe like this at a Queen B sale you might think from its styling that it is Scandinavian or  Century Modern. And, it would look right at home in a dining room featuring Eames furniture, George Briard serving pieces and Tammis Keefe linens. However, it is Appalachian and predates Mid-Century by about a decade. It was actually inspired by a new-fangled appliance just starting to invade American homes, the 'electric icebox', or refrigerator.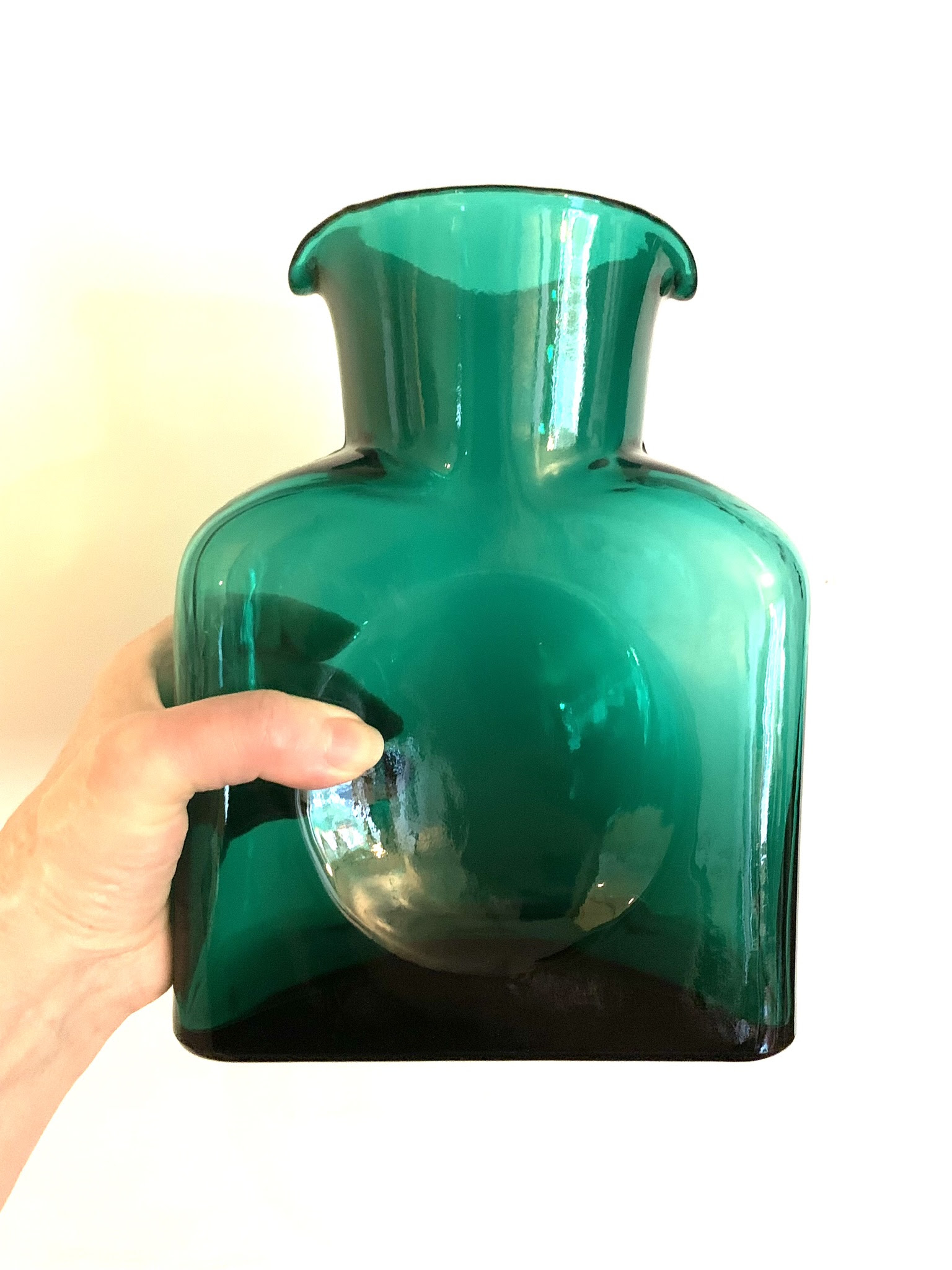 William John Blenko, an English glass-blower, came to Minton, West Virginia in 1921, attracted by the cheap natural gas. By 1923 he had set up gas-powered furnaces and trained locals to staff his small glass factory but he had trouble selling his specialized window glass products. He had to innovate or go under.
He hit on enduring success with the '384 Blenko Water Bottle', so-called after the year of its invention (1938), 4th design of the year. The bottle has been in nearly continuous production since. So, what makes this singular bottle such an enduring hit for this small Appalachian glass-blowing company?
The original bottles are 8″ tall and hold 36 oz (4 &1/2 cups). The squared, hand-blown carafes have a narrow enough side profile that they can sit safely down into the skinny shelves of a refrigerator door. The double spout means the user doesn't need to orient the bottle when picking it up, and the broad, bullseye indents on both sides help the hand securely grasp the cold, slippery bottle. And it doesn't hurt that Blenko Water Bottles are infinitely more pleasing to look at than your average boring refrigerator jug and can go straight from the fridge to serving guests at your fanciest celebratory event. People have never stopped buying them.
In keeping with the business practice of 'line expansion', the original bottle has remained constant while the company created many variants. In the late 1940s and 50s came attached handles, and in 1999 frosted and satin-finish bottles were made. In 2010 ribbed and optic ripple versions, and 'frit' color variants with flecks of contrasting colors in the glass were offered. Ten years ago a 6″ tall, 10 oz mini was introduced. There are even a few bottles out there with four pouring spouts but these were created by individual glass-blowers goofing off on the job. Known as 'factory whimsies', the four-spouters are extra-desirable for collectors.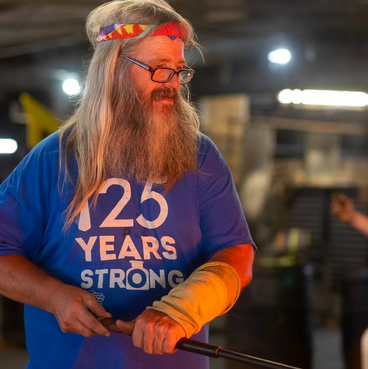 Blenko also makes many other glass products such as serving bowls, centerpieces, drinking glasses, barware, vases, pressed-glass sun catchers, cast-glass figurines, votives, fused- glass nightlights, blown-glass garden art and even glass jewelry. And they offer the first registered Glass Worker Apprenticeship in West Virginia and have active relationships with local scout troops and colleges, producing custom glassware for fundraisers.
With all that glass work going on, it's become impossible to accurately list all the colors the Blenko Water Bottle has come in, since each time a new shade of glass is developed at the factory, for ANY product, at least a few classic water bottles are blown in that color to test it out. One serious collector has even amassed over 600 unique Blenko Water Bottles! The newest color is 'Spring Crocus', a clear, true purple easily distinguishable from the earlier brownish-purple Amethyst. Today a new Blenko Water Bottle retails for between $60 – $80 depending on size and color but of course with Queen B vintage you can do better. Feeling stylish yet thirsty? Visit a QBO sale – with all those Blenko Bottles out there, you'll find one sooner or later!
Take a look at Blenko's website HERE!